A renovation in Barcelona or Spain can be a tricky process. Especially when you don't speak the language, don't know any builders or when you are still living abroad and have to organise the renovation from a 'distance'.
The last thing you want is a poor quality renovation, a budget that runs out of control, serious delays or worse…
There are many questions to be answered before you can buy and renovate a property carefree:
How should I organise a renovation in Spain?
How do I choose the right builder and/or architect?
I don't live nearby, so how do I keep on top of the developments?
How can I ensure that the renovation is carried out the way I want?
How can I best monitor the budget?
How can I be sure I am paying reasonable prices?
How should I communicate with the builder or architect?
How can I be sure the permits are in order?
How can I ensure that nothing is overlooked that could potentially lead to delays and/or higher costs?
---
Do these questions look familiar? If the answer is "yes",
I can tell you that there is a very simple answer: do the home improvement with me!

I am Barbara Eijmans. I lived in Spain since 1996, especially in the Barcelona area. Since 2006  I am helping my clients to have their refurbishment in the Catalunya region carefree, on time and qualitatively at a high level. I do that every day, and with a lot of fun.
I have an extensive network of good contractors, professionals and suppliers. Together with my clients, I choose the companies that are most suitable for a job. In addition, I plan and coordinate renovations and provide building drawings. Of course I regularly fly to Spain to be sure that everything goes as agreed with my customer.
The builder directs the professionals and eventually the contractor and ensures that the work is carried out according to plan. During this process we are constantly in contact via telephone, WhatsApp, Zoom or Teams, as I am also very reachable to my customers.
This contact is very important to me, because countless choices have to be made during renovations. This is usually the case. The builder sees an issue or a new, better solution during the refurb proces. He consults this with me. I contact my customer and explain it. If the customer agrees, it will be executed.
We will therefore have a lot of contact, because in the case of a radical renovation, hundreds of choices have to be made.
---
Builder in Spain
Many of my clients have purchased a second home in Barcelona or the surrounding areas. They often speak no Spanish at all, or far too little to be able to communicate with a builder at a professional level.
These clients work together with me in order to avoid unnecessary risks and to ensure they maintain control over their budget and planning.
I consider it my task to ensure that a renovation runs as smoothly as possible. I achieve this by:
– Helping to find the most suitable builder and/or architect.
– Check budgets and prices. (of course, I know what the going rates are in Spain)
– Preparing the renovation together with the client.
– Offering support in applying for permits.
– Preparing construction plans. (I have trained as an interior designer in Barcelona)
– Choosing materials.
– Organizing and supervising the renovation.
– Translating all communication with the builder architect and suppliers in Barcelona.
– Taking images and videos of the renovation process and discussing these with the client if they are not nearby.
– Monitoring the budget.
– Monitoring the planning.
– Taking responsibility for the successful conclusion of the renovation.
And ultimately:
– I protect my clients from all pitfalls that befall many individuals.
– I inform my clients of all developments so that they never lose control.
– I look after the interests of my clients in relation to the builder, architect, suppliers and authorities.
---
Home renovation in Barcelona and surroundings
I have already completed dozens of large and small renovation projects. Houses, apartments, lofts. After each renovation I am keen to know how my client experienced our collaboration. This is what my clients say about me:
"In Spain there are other construction methods, different people. It's clear that the language is a barrier to understand each other and to achieve what you want. A good 'interpreter' like Barbara is indispensible."
"Barbara translated a great deal for us during our renovation. She also introduced us to the builder and managed the construction work. She offered support in the design process, familiarised us with the materials and shops in Barcelona, consulted with the neighbours before and during the construction."
"Barbara was indispensible during our home renovation: she knows the situation in Barcelona, the conventions and the contractors. She also knows a lot about legislation, materials and shops, etc."
"We are extremely satisfied with Barbara, everything went really well. We now have a beautiful apartment, completed in a very short space of time. She has control over the people with whom she works and really stands her ground."
---
Property refurbishment
Here are several examples of renovations I have managed for my clients.
Beautiful refurb of a loft with design in Horta, Barcelona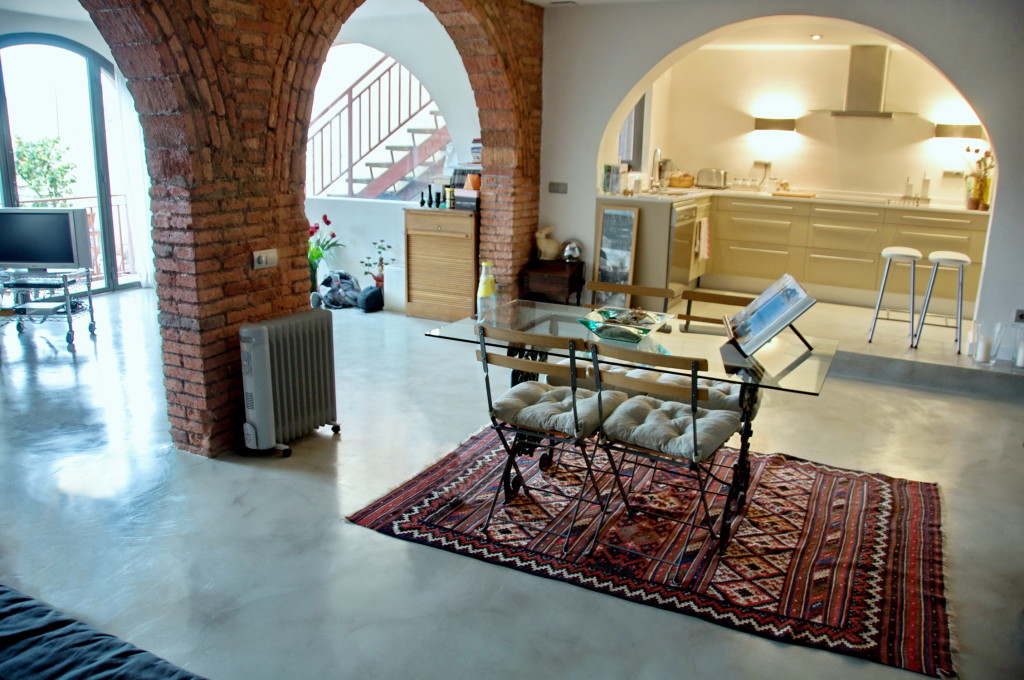 For me, this was a very exciting renovation in Barcelona. It was my task to create an apartment in a space that had always been used as an office. It is the basement of a building on a hillside, with light flowing in from only one side. I designed an open space with a glass partition wall, which emphasises the spaciousness, but also provides daylight for the bedrooms and bathroom. I removed old layers of cement from the characteristic arches, which revealed the authentic brickwork. The floor is made of 'micro cement', in a warm grey-green tint.
The kitchen is sand-coloured with a clean, white worktop. The high cupboards are out of sight, to enhance the spatial quality. The walls are painted (broken) white in order to make the apartment as light as possible.
---
Transformation of an old apartment in El Borne, Barcelona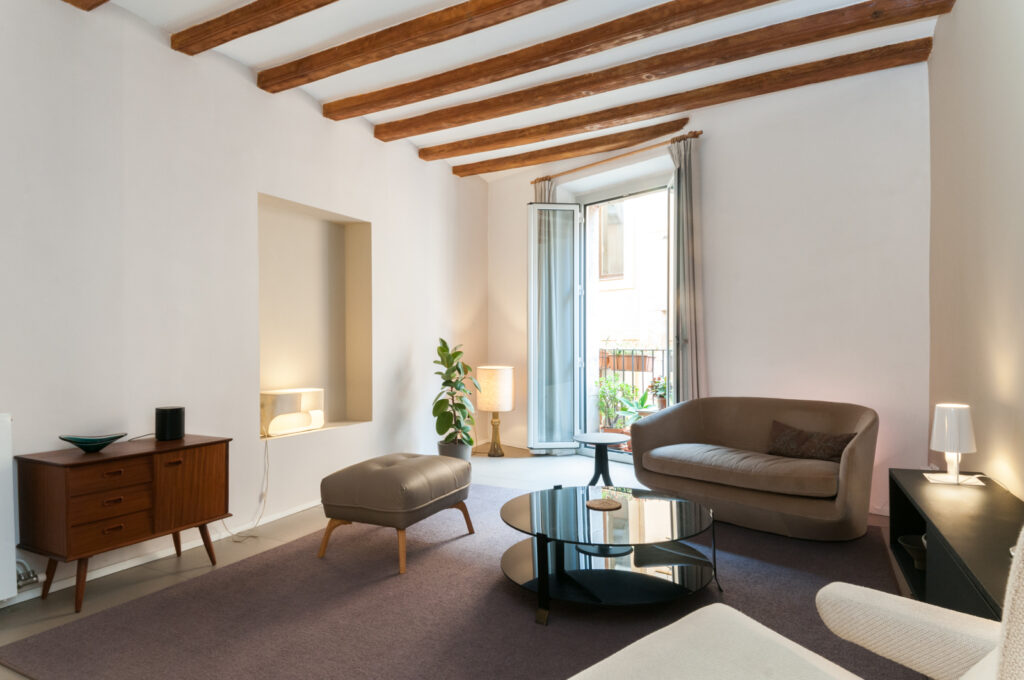 renovation property El Borne Barcelona
This apartment in the heart of Barcelona was completely transformed. Wherever possible I removed the walls, as well as the plaster ceiling. This revealed a very large space with beautiful wooden beams. It is an almost medieval building with all kinds of nooks and crannies. It was the desire of the owners that the kitchen become part of this space. This was a real challenge because there was no water supply or drainage in the right place, but eventually we achieved a beautiful end result. The style of the interior is vintage, which fits perfectly with the building.
---
The architect that fell for a house in Barceloneta, Barcelona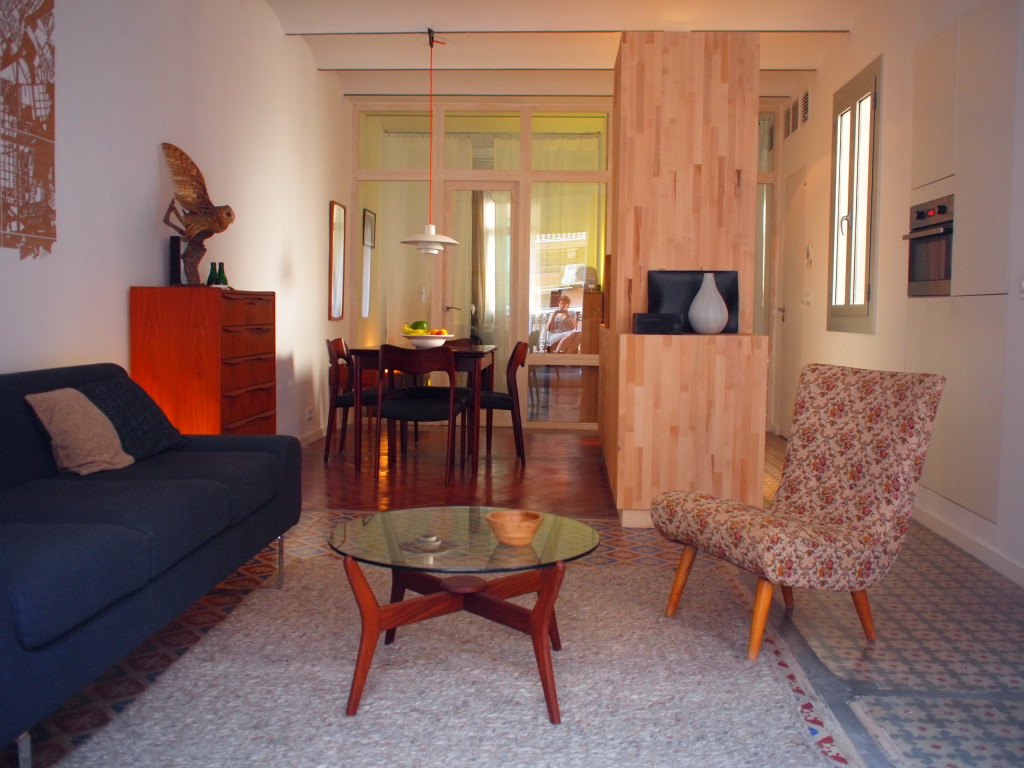 This apartment is located in the centre of Barceloneta, Barcelona. It was an apartment measuring ±50 m2 with no less than 6 small rooms. The new owner, an architect, wanted to transform it into one big open space. The concept for the renovation was; leave the long wall (left in the photo), with four different wallpaper patterns, in its original state. The same went for the tiles on the floor. The arched ceiling was uncertain, because we could only see it when the existing ceiling had been removed.
During the renovation we discovered that the original 150 year-old tiled floor was hidden under the tiles; a different pattern in each room. The authentic tiles are beautiful. The project was turned on its head: the wallpapered wall became sleek white, just like the arched ceiling, and the floor is now a wonderful patchwork – a reminder of what the apartment once was.
---
These are some questions you may have:
Where do I operate?

I do renovations mostly in Barcelona and surroundings. Also in places like Sitges, Vilanova, Sant Cugat and Mataro.

If you have a house (bought) in the area of Tarragona or Girona and you want to have a renovation carried out, you can always contact me. Maybe I can help you find a contractor or look over your shoulders during the process.

What are the financial advantages?
* I am qualified as an interior designer. I can design the space for you and produce building plans in 2D and 3D, thereby saving on the costs of an architect.
* I am familiar with prices. If I am involved in your renovation, it is very unlikely that a contractor will charge too much for certain items. And if this should happen, I will discuss this with the contractor. I work with affordable builders who offer a high level of service, work with good materials and have their insurance in order. It is a mistake to expect to find through me the cheapest builder.
* If you would prefer to look for materials or furnishings yourself, you can profit from discounts available to me from suppliers as a construction professional. I always offer to my clients part of my discounts.
My hourly rate is 60 euro per hour, excluding IVA (21%). It goes without saying that I keep an accurate record of my hours.
I often agree a fixed price with my clients for the complete renovation project. A client therefore knows exactly what to expect in advance and the costs of my assistance can never exceed the budgeted amount. I usually calculate an average of 8 to 12 hours for a period of x weeks, depending on the scale of the renovation.
* I strive for a renovation to go according to plan. I do this by carefully preparing the renovation, making the construction drawings myself and drawing up the to-do list. This allows a builder to submit a complete quotation. And stay within budget, provided there are no unforeseen situations. I think that is extremely important, although it is not self-evident in Spain.
* I have often had many years of cooperation with my contractor / architect / supplier, which means that we are well attuned to each other.
* I have knowledge of the market and materials and can devise smart and cost-effective solutions and advise you on the choices to be made.
* I filter all information that I receive during the renovation to only what is necessary, so that my client experiences as little stress as possible and the renovation remains clear.
* Of course, unforeseen situations sometimes arise that involve adjustments and / or extra costs. But this is always communicated transparently in advance. My client always has a choice here.
I can always put you in touch with clients I have worked with in the past. They will be happy to tell you what I achieved for them.
Telephone or whatsapp:  +31 683 290 890   
E-mail: home.renovations.barcelona@gmail.com  or   barbaraeijmans@hotmail.com
I am happy to arrange a meeting to get acquainted and to answer any questions you may have. Of course, the initial meeting and quote are free of charge and without obligation.